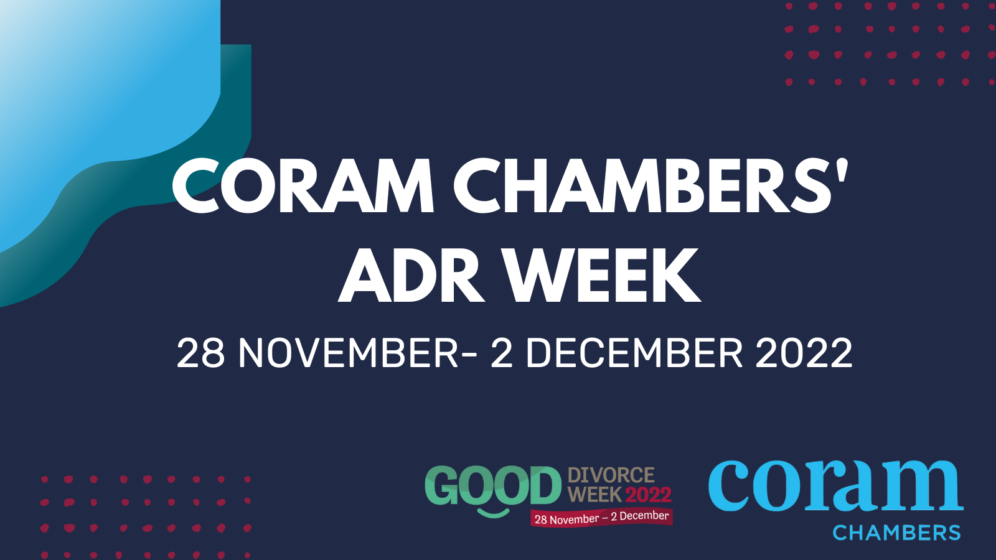 Coram Chambers is pleased to announce it's first ADR week running from 28th November- 2nd December 2022 in conjunction with Resolution's Good Divorce Week. We will be sharing articles, resources and information relating to Coram's ADR services, so please follow us on social media or check back here for updates!
Good Divorce Week is an annual initiative run by Resolution, the membership organisation of family justice professionals who work with families and individuals to resolve issues in a constructive way. Each year, they run Good Divorce Week, raising awareness of different focus points each year.
The aim of "Good Divorce Week 2022" is to highlight the crisis in the family courts and raise awareness of how families can resolve their disputes away from Court and minimise conflict.
Family Court Crisis
The family courts are overstretched and facing huge backlogs, both in terms of dealing with listings and administrative tasks. Despite the best efforts of court staff, families are frequently left waiting long periods of time to sort out finances and children arrangements. Resolution, and many family law legal professionals believe that if the government funded early legal advice, more cases could be resolved without having to go to court (where it is safe and appropriate to do so). It would ensure that those cases that need to be resolved by Court can be dealt with promptly.
Reduced rates for first five ADR enquiries
If you are going through a divorce, contemplating a separation or would like to know more, we can help. As part of Good Divorce Week 2022, we will provide a reduced rate for the first five enquiries relating to your family law matter. This offer is available between 28th November – 12th December 2022.
Contact our clerking team for assistance
Our award winning clerking team can help you minimise conflict and improve communication throughout your divorce or separation. To Please speak to our Director of Clerking, Hudson Brewer by phone (020 7092 3700) or email.
Coram's ADR services
For more information on Coram's ADR services, please click here.