VCD Girls celebrated the first win of the year last weekend after playing Crayford Arrows keeping them at the top of the league! Keep going girls!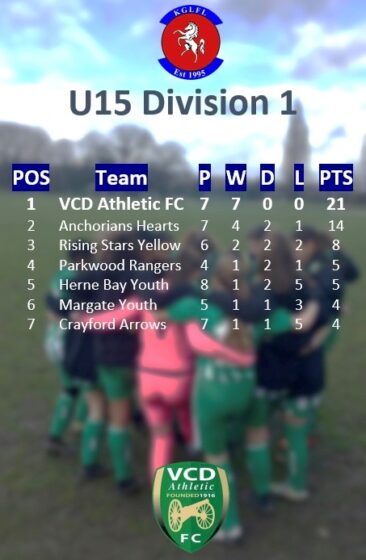 Please see below a match summary written by Sacha Stewart.
Well the weather was not kind to us on Sunday, and that might be a bit of an understatement! With heavy rain and strong winds, we had our work cut out to secure the win; nonetheless, the girls displayed an outstanding performance against Crayford Arrows.
The match began with some trepidation as we gradually got accustomed to the heaviness of the pitch, but we quickly adapted and began to put the necessary pace on the ball.
In the opening 15 minutes we had most of the possession but failed to get the finish after repeated attempts. However after being urged to shoot, Bianca broke the deadlock in the 18th minute and scores top bins, just outside the box. Settled by our 1-0 lead, we were able to play with more fluidity, looking after the ball when we had it and fighting to win it back on the occasions we didn't.
After another 15 minutes predominantly in their half, I myself had an opportunity on goal; after hitting the crossbar, my teammate Eloise was there for the subsequent tap-in, doubling our lead just before half time.
The second half began at a much faster pace, and after less than 5 minutes my teammates' hard work paid off and I was allowed a shot on goal, which fell very kindly for me in the top left corner.
With multiple substitutions and fresh legs injecting energy into the game, we were able to maintain a high standard of play primarily in their half, and our defensive efforts largely limited their chances on goal. In the 61st minute Cristabel played a lovely through ball to Rali, who rewarded her efforts with our 4th goal, despite the linesman's efforts to disallow it!
Another goal from Rali concluded a solid 5-0 win, which everyone was very pleased about. Our composure in defence left out goalkeeper Sophie with not a lot to do, which is always a good sign!
The passing and moving in midfield was crucial for us to be able to play the game at our own pace, and finishing certainly rewarded the team's efforts. I can truthfully say that every goal scored was a team goal scored, and every player had a vital role in Sunday's win.
Lastly a huge thank you to our coaches for their continued guidance, and to our parents, who braved the elements today to support their daughters! We would not be where we are without you.
Manager's Player of the Match: Abi
Opposition's Player of the Match: Sacha